Google Search app updated with Google Now and Voice action improvements
18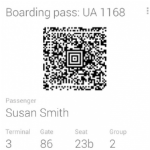 Google Now has been one of the best new features this year, and it's not done getting better. A new update for Google Now adds a slew of new features including various new notifications when traveling, and a couple nice new voice commands. The latter aren't exactly features of Google Now, but part of the Voice Actions side of the Google Search app for Android.
On the Google Now side of things, there are nice new options for travelers including a card for the weather in at your destination. And, in a nice move to take on options like Apple's Passbook and Microsoft's Wallet Hub, there is also a new card which will pull up a QR code for your boarding pass when flying. Right now, it is limited to United Airlines, but Google has promised to add other airlines in the future.
Google Now has also been updated to offer cards on events nearby, your monthly walking/biking activity, and the option to search from your camera when at a museum or shop. There is also a feature which promises to offer "suggestions to help with your research", but it's unclear exactly what that means.
On the Voice Actions side of the app, there is now Google+ integration, so you can post to your G+ stream by voice. There is also an option to ask "What's this song?" to identify a song that's playing (assuming you don't want to use the Google Play widget or something like Shazam). And, last is an option to say "Scan a barcode" to do just that.
If you've got an Android device running 4.1 or higher, you can get the update for free in the
Google Play Store
.