Google Rickrolls code-diggers in new YouTube APK
8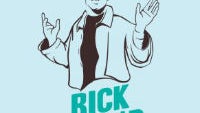 For those of you who keep a close eye on mobile news, you know that over the past couple of years, a new segment of reporting has surfaced - code-digging - which is when Android app files are decompiled to see if there are new/future features hiding in the code. The practice was popularized by Ron Amadeo and Artem Russakovskii, and is now the specialty of
Android Police
. Google decided to have a bit of fun with them in the new YouTube APK.
The Android YouTube app recently got a relatively minor update, which mostly focused on making playlists better, but of course there is always a chance that future changes could be hinted at in the code. So,
Android Police
founder Artem Russakovskii started looking through the APK code to see what he could find. Artem got pretty excited when he found a string labeled "music_pass_onboarding_tutorial_uri", with a link to what appeared to be a video tutorial for the long rumored
YouTube music service
, but it was actually just a classic
Rickroll
.
Google even rubbed it in more when Artem posted about the joke on Google+. The official +Google Developers account commented on his post with "Never Gonna Give You Up" lyrics saying, "We've known each other for so long. Your heart's been aching, but you're too shy to say it. Inside, we both know what's been going on. We know the game and we're gonna play it."
And, so, the game plays on...