Google Play app revenue up 311%, but iTunes still 4x higher than that
41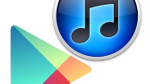 It looks like Google's push to put the Play Store front and center this year has been paying off. Ever since the release of the Nexus 7, Google has been adding tons of content, having lots of sales, and putting Play widgets front and center on Nexus devices. All that has paid off, because Google has seen Play Store app revenue go up 311%, of course, for perspective, iTunes is still making 4x as much in revenue.
The numbers bear out
some of the extrapolations
that Tech-Thoughts made a couple weeks ago, and may even show even more impressive growth than was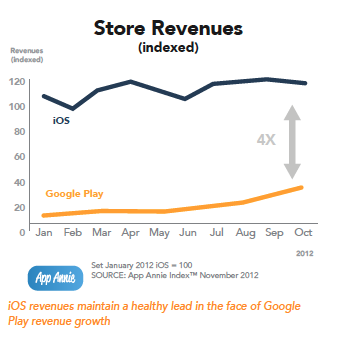 expected for the Play Store. The numbers have been generated by App Annie, which tracks over 150,000 apps across iOS and Android to give some analytics on the ecosystems. The numbers show an impressive jump for Google Play which has year-to-date growth of 311% compared 12.9% for iTunes, and as you can see on the right, the Play line does get a bit steeper around June.
Of course, even with this fast growth, the Play Store is still generating 4x less app revenue than iTunes. And since, no other store content is measured, it is quite possible that iTunes even more than the Play Store once all content is taken into account. But, Google is catching up, and is even seeing total app downloads jump as well. The Play Store has seen free downloads jump 48% year-to-date, while iTunes is only at 3.3%, although once again iOS does have the lead for total free app downloads.
Google Play has a long way to go to catch up, but given the growth rate, and Android's increasing market share, it's starting to look more like a case of
when
the Play Store catches iTunes, rather than
if
.