Google Pixel 3 XL vs Samsung Galaxy Note 9: first look
5
It's Google's best versus Samsung's mightiest, the battle of the behemoths some would argue! The Samsung Galaxy Note 9 was the first major smartphone to launch for the fall, setting the bar for everyone else proceeding after it. And so far, it doesn't disappoint because of its top-notch performance, high-end specs, and being one of the most features rich smartphones around! Meanwhile, the Google Pixel 3 XL was just announced and just starting its mission on becoming one of the giants in the space. It's certainly promising on so many levels due to the esteemed reputation of the series, but it'll need a lot to give Samsung's pride and joy a good run for its money!

Design
We're going to have to applaud Samsung for its design with the Note 9, not only because it definitely stands out for its premium construction, but also for its engineering marvel! When we consider how the Note 9 is able to somehow accommodate the S Pen and even offer a headphone jack, we're a bit disappointed by the compromises we'll have to endure with the Pixel 3 XL. However, we'll certainly attest that the Pixel 3 XL feels incredibly lightweight in the hand by comparison, but in the end, its simpler looks aren't enough to keep our eyes off from the premium finish of the Note 9!

Display
Similarly, we're leaning towards the Note 9 when it comes to their displays. They're very close in terms of specs, as the Note 9 features a 6.4-inch QHD+ Super AMOLED display, while the Pixel 3 XL is outfitted with a 6.3-inch QHD+ OLED panel. Needless to say, they have plenty of admiral qualities that we love, but there's just that matter with the Pixel 3 XL's notch – a huge one at that! It's a painful distraction when you look at the uniform outline of the Note 9's display, more so too when you consider that the Pixel 3 XL has a wider bezel with the bottom edge of its screen. Some people may not be fazed by this, but it still shows us how Samsung isn't about to start compromising on anything.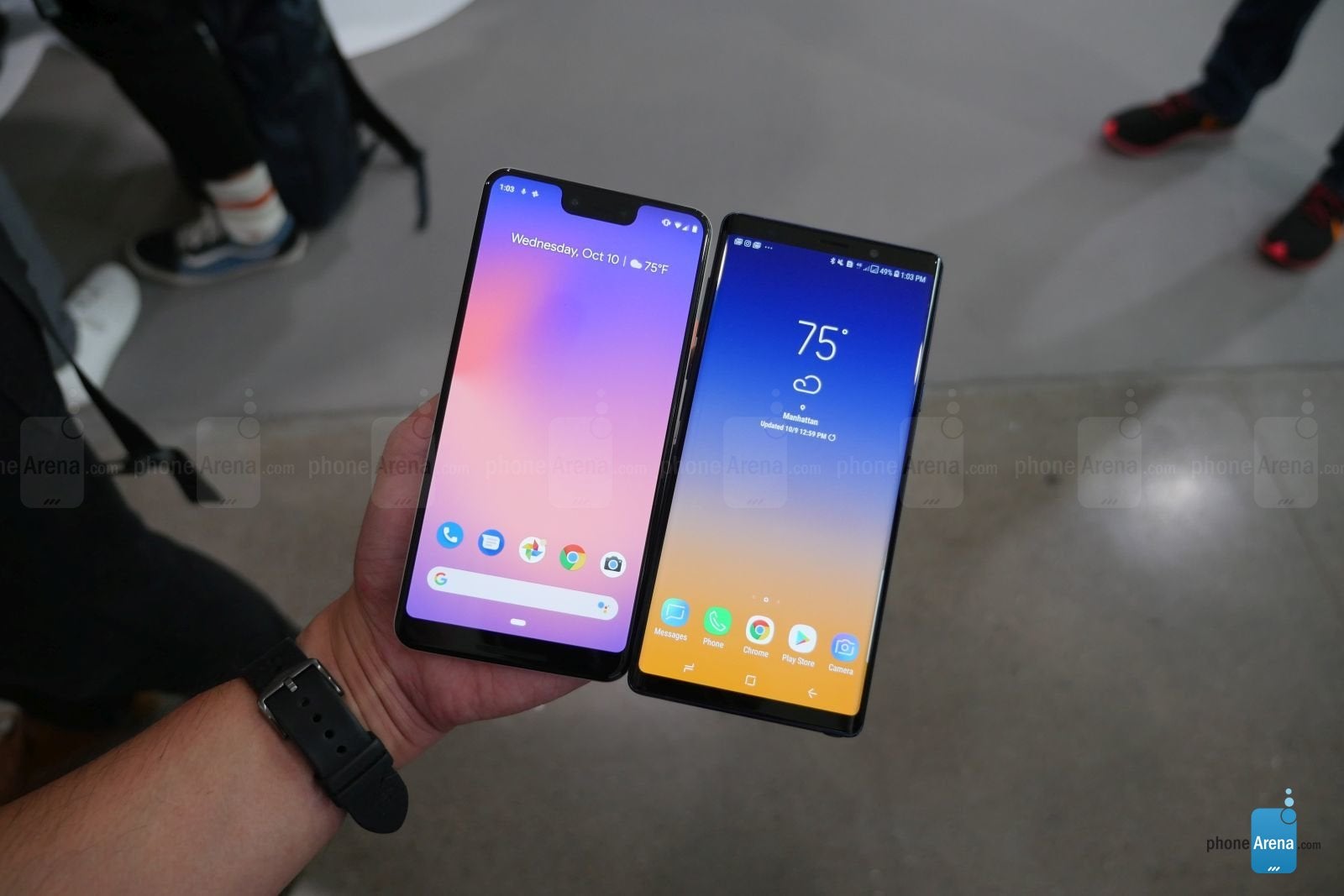 User Interface
When you're a Pixel, it comes with the understanding that you're offering the most authentic Android experience around – and that undoubtedly rings true for the Pixel 3 XL and its stock Android 9.0 Pie experience. Many people love and appreciate the vanilla experience, but Samsung's experience with the Note 9 is also unique in its own way. Whereas the Pixel 3 XL goes after a straightforward experience, some people may prefer the Note 9's incredible utility with the aid of its S Pen, Edge Screen functions, and the desktop-like experience with DeX. When it comes to work and productivity, the Note 9 has shown us that it reigns supreme in that area, but the Pixel 3 XL's no fluff experience is equally appreciable in its own way.

Performance
Yes, they're both powered by the Qualcomm Snapdragon 845 SoC, but even in our short time checking out the Pixel 3 XL, there's no denying it has a higher level of responsiveness with its performance. We're talking about baseline operations, such as its snappiness with scrolling through the interface and reacting to our touch. The Note 9 isn't no slouch either, seeing that it's more than adequate at delivering smooth frame rates when playing graphically intensive titles, but its responsiveness doesn't feel as instantaneous. Then again, the stock Android 9.0 Pie experience of the Pixel 3 XL may have something to do with it.

When it comes to storage, we're giving it to the Note 9, primarily for the fact that it offers a generous 128GB capacity with the base model – versus only 64GB with the Pixel 3 XL. On top of that, there's expansion with the Note 9 courtesy of its microSD slot, which isn't something you'll find with Google's offering.
Camera
Truly impressive, we've already witnessed how machine has benefited last year's Pixel smartphones to produce impressive results with their single rear mounted cameras! Knowing that, we're even more eager to find out how the Pixel 3 XL compares. The Note 9, though, delivers outstanding results with its dual-camera system, which also has the edge when it comes to shooting modes, especially on the video side where it tops out at 4K 60 FPS and offers a super slow-mo mode. Over on the front, the Pixel 3 XL's wide-angle 8MP camera offers a wider capture than what the Note 9 offers, so that alone should prove useful for many people who love taking selfies with friends in the shot.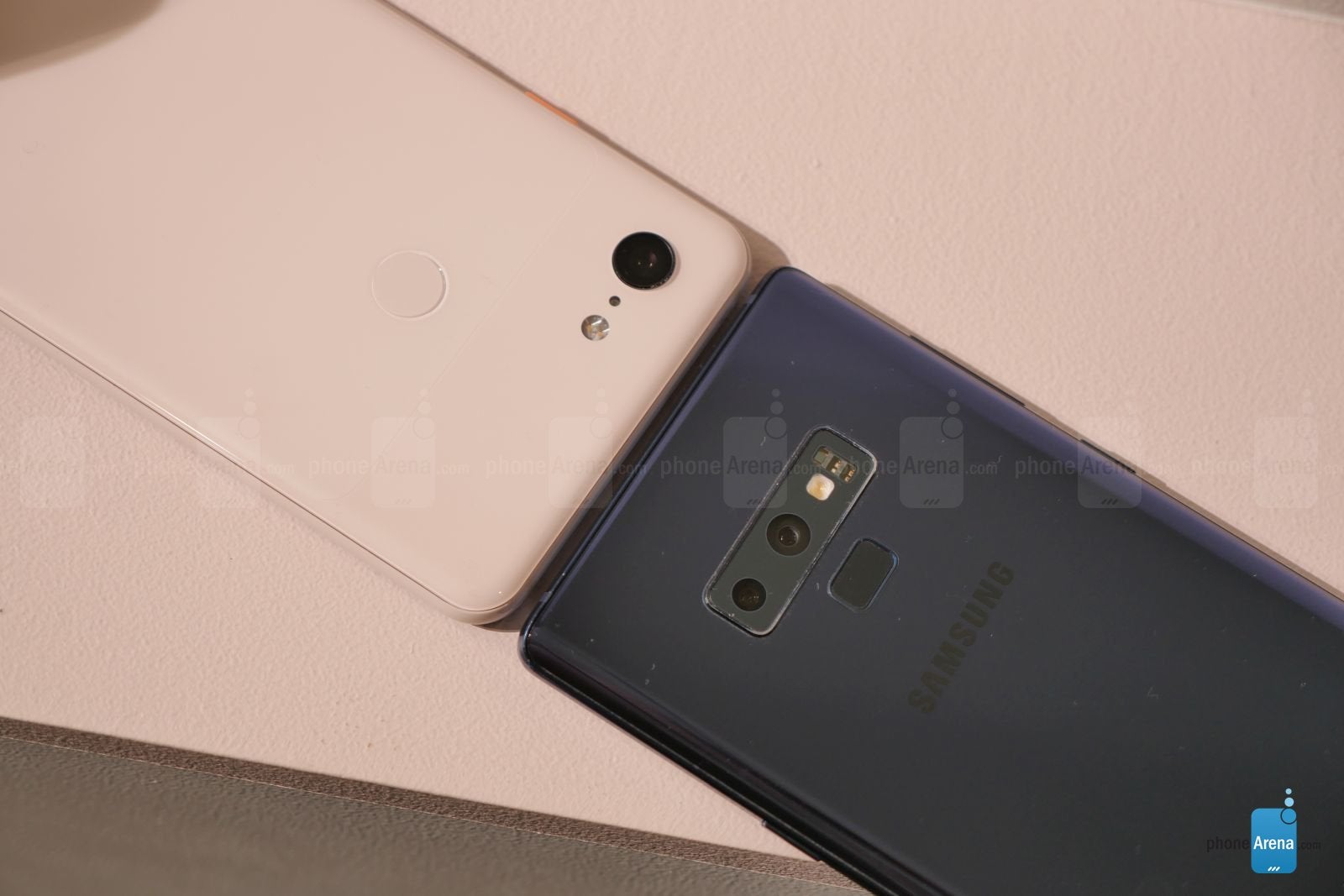 Battery
This one is a toss-up at the moment until we can put the Pixel 3 XL through our barrage of tests to uncover its battery performance. If we're to base it simply on the specs, the Pixel 3 XL's 3430 mAh battery faces an uphill battle knowing that the Note 9 is stuffed with a generous 4000 mAh battery cell. Naturally, we can't place too much emphasis on the specs because the performance generally has many factors involved in it. At the very least, they both offer the convenience of wireless charging.

Google has the Pixel Slate rated for 10 hours of battery life, which will be interesting to test out once we get our hands on it. That may suffice people, but when you think about how it's more of a mobile computing device, its performance will undoubtedly vary depending on what you do. Light tasks such as the occasional email reply and surfing the web shouldn't be too taxing, but if you plan on getting some serious work done or playing games, it'll be interesting to see how it stacks up.
Expectations
These two smartphones carry hefty prices, but the Google Pixel 3 XL may have a slightly better chance of attracting consumers due to its $900 starting cost. That's still a savings of $100 over the Note 9, which carries a $1000 cost of ownership. Some people may not be thrilled about these prices, but the Note 9 at this very moment has the more compelling package when you think about all the extra goodies that come in tow with it.

When it comes to the basics, we certainly know that these two have them locked down. However, the Note 9 does carry some additional amenities that you won't find in the Pixel 3 XL – like its S Pen, heart rate sensor, headphone jack, and all of its software-based features. Adding to that is its top-notch performance in all areas. Despite that, the Pixel 3 XL still has a promising outlook despite its straightforward strategy. It's the kind of phone that just works, without adding any complications. Even though it may be lacking in some areas versus the Note 9, ultimately it's going to be its performance that'll determine if its $100 savings has any meaning.