Google Pixel 3/3 XL to launch with "Top Shot" selfie mode and "Flip to Shhh"
13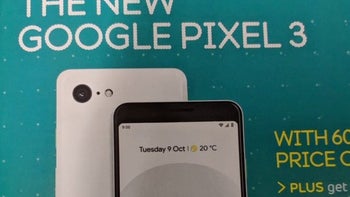 With less than four days to go before the Google
Pixel 3 and Pixel 3 XL
are announced, it seems UK carrier EE is already preparing promotional brochures for the phones. And despite the ridiculous number of leaks, they contain a few bits of previously unknown information.
For quite some time now, Google's next smartphones have been expected to introduce a new
Super Selfie mode
– the official Made by Google Twitter account even
teased the feature
earlier on today – but if these documents are accurate, it seems the feature will arrive under the name of "Top Shot." Seemingly, it will be used to capture the best possible shots in each situation by searching for "smiles, not blinks" with the help of AI. Moreover, it's claimed that it will help "take group selfies that get everyone in the photo (without a selfie stick)." This backs up recent leaks that claimed the second front-facing camera boasts a super wide-angle lens.
Moving away from the photography department, Active Edge is referenced in the image and will once again be used to activate the Google Assistant. The Google Lens feature also looks set to be marketed heavily. One last thing mentioned is the option of flipping the Pixel 3 or Pixel 3 XL over in order to turn off all notifications. This, according to
XDA Developers
, is the brand's latest Do Not Disturb feature and will be marketed as "Flip to Shhh."
On a separate note, the brochure also provides a glimpse at the
new Chromecast
and the upcoming
Google Home Hub
. While pricing is unconfirmed for the latter, the documents do state that it will begin shipping on October 22, although this date may be exclusive to the UK or EE.