Google Maps will get full blown offline search and side-by-side navigation
16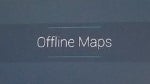 On stage at I/O 2015, Google revealed that it's taking Maps in a whole new direction - not up in the cloud, but down to the ground, meaning that the app is finally getting full-blown offline mapping and turn-by-turn navigation functionality. This will happen later this year, possibly as part of the Android M rollout. The addition of offline functionality has been prompted by users in developing countries who suffer from poor, unreliable Internet and data connections.
Previously, users could download a portion of a map for offline use, but after the new update rolls out, one will be able to search and get auto-complete results even without a connection to the Internet. Essential information about a particular location, such as reviews and opening times, will be accessible, as well as turn-by-turn navigation. This will surely be of help to smartphone owners living in places where data plans are still very expensive, and coverage is problematic.
Google Maps isn't the only app getting itself into offline territory. YouTube Offline, which is exclusive to a number of countries, will make users' favorite videos available for viewing for up to 48 hours, and Google's so-called Network Quality Estimator will shrink website data according to the strength of users' connection. With this optimization in place, pages can load up to four times quicker, load 80% less bytes, and memory use is reduced.
Doubling down on offline functionality makes sense, as Google is looking to position Android in emerging markets - countries like Brazil, Indonezia, and India - where the majority of smartphones sales growth will occur in the near future.
source: Google,
Digital Trends