Save $48 with the purchase of a Google Home Hub two pack from Costco for $250
1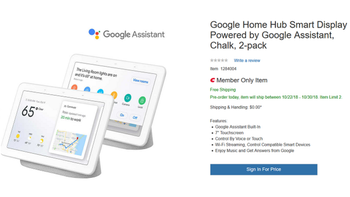 Early this morning, we told you about
Home Depot's too-good-to-be-true deal on the just unveiled Google Home Hub
smart display. The product doesn't launch until October 22nd, but the home improvement retailer's website was taking orders for the Home Hub for $99, a $50 discount from the product's $149 MSRP. But as it turned out, not terribly long after we posted the story, Home Depot corrected the listing and put up the proper pricing.
Now, there is a deal on the Google Home Hub from membership warehouse club Costco. The latter has a little more experience selling technology than Home Depot does, and since it is known for selling items in bulk, perhaps the deal shouldn't be surprising. If you're a Costco member, you can purchase a two-pack of Home Hub units for $249.99. That works out to a savings of $48.01 or 16%. With this deal, you are purchasing each unit in the two-pack for approximately $124.99.
Costco is selling the two-pack in Chalk, and shipping is free. Pre-order today, and the smart displays will ship between October 22nd and October 30th. The Home Hub features a 7-inch touchscreen, and you will be able to view YouTube and Netflix videos, stream music with lyrics, monitor Nest security cameras strategically placed around your home, and watch recipes completed right in front of your eyes.
Of course, with Google Assistant, there's much more that the Home Hub can do for you. If interested in snagging a two-pack at a good price (and remember, the holiday shopping season will soon be here), click on the sourcelink below.

Recommended Stories