Goldman cuts Apple's stock target citing 'slower pace of product innovation,' still rates it 'buy'
10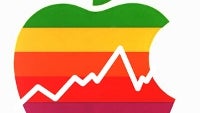 The almighty Goldman Sachs is the latest in a string of Wall Street shops that cut their Apple stock price targets after a disappointing forecast by Cupertino for the current quarter.
Of course, at these deflated P/E ratios Apple is still a tasty morsel for portfolio managers, so Goldman keeps its "buy" rating here, but evidently it's the pace of growth that the investment bank thinks will eventually take Apple to the stature of your average blue chip stock going forward.
While Goldman defends Apple's addition to its own Conviction List of stocks with "buy" rating back in 2010, citing how the iPhone maker outperformed the S&P by a large margin in the period, it also warns about some headwinds for the show that Tim Cook currently runs:
Based on Monday's close, AAPL has gained 33.8% since being added the Conviction List on December 12, 2010, versus a 25.9% gain in the S&P 500," the analysts wrote. "Our new 12-month target price is $575, from $660 previously, based on a 13X multiple (previously 14X) on our lowered CY2013 EPS estimate of $44.64 (previously $47.29).
Investment shop talk aside, Goldman Sachs is a bit hesitant to place a higher stock price target on Apple due to what it apparently sees as structural issues that need to be resolved, not temporary blips on the management radar: "
delayed product cycles, supply chain difficulties, product price erosion, and a slower pace of product innovation
."