Glass, plastic, or nothing - are you using a screen protector?
58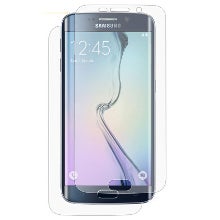 Defending your phone from the daily wear and tear often involves wrapping it in a case of sorts, and there are hundreds to choose from for the most popular models. The most expensive element in our $600+ flagships, however, is the screen, and history has proven time and again that when they are dropped face-down, most phones' panels would crack, split, or downright shatter. This goes even for the rugged and shockproof ones, and replacing your phone screen costs pretty penny, especially if they are of the Super AMOLED variety, where Samsung has a monopoly.
One way to protect your displays better, besides being careful not to drop your handset on a hard surface, is carefully placing a screen protector over it. This way part of the impact will be absorbed by the protector, and, especially in the case of tempered glass ones, your default panel could escape unscathed. That's not all screen protectors are good for, though, as they also protect from nicks and scratches, and some also diminish the reflectance, which bodes well for sunlight visibility. That's why we wanted to ask you if you use any type of screen protection for your handset. Tell us in the poll below, and sound off why in the comments.