Gizmon iCA iPhone Case turns your device into a true camera with interchangeable lenses
4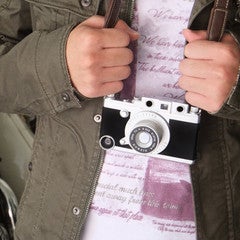 By now you've probably seen or snapped plenty of pictures with the iPhone 4S and there's no denying that Apple outdid itself in the camera department. But you're still holding a phone and getting dumb faces when trying to convince people that it's nearly as good as a point-and-shoot camera. The
Gizmon iCA iPhone case
changes the looks of your iPhone to that of a camera, but most importantly adds some nice features and interchangeable tiny lenses to really boost your shooting skills.
The iCA is also simply a piece of art - a pretty sophisticated one with
32 different polycarbonate parts
. You already see how it looks like on the pictures but what you might not immediately notice is the shutter button, lens mount and optical viewfinder.
The vintage feel is only boosted by the neck strap and the case comes in three colors - black, white and brown. The iCA case retails for $65 in the States with the strap setting you back another $30 and the lenses costing $45, and you can grab it by hitting the source link below.