Giveaway: Motorola DROID RAZR and DROID BIONIC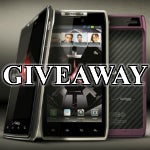 We really can't think of too many things in this world that are cooler than purchasing a new phone, but one of those rare activities does come to mind right now, and it's winning a new phone, through a giveaway, just like this one! Yeah, getting the latest technology in your hands without having to spend a dime is certainly cooler than slaughtering your piggy bank, and we're happy to tell you that thanks to our buddies from RadioShack, two of you have the chance to win a new handset. What we have here to give away are a Motorola DROID RAZR and a DROID BIONIC - both being extremely capable and contemporary Android smartphones. All of this is made possible because of RadioShack's Mobile Makeover Month initiative. And here's what it's all about...
here
, where you can also determine the value of your device.
And now for the fun part - the one that may get you a brand new DROID RAZR or BIONIC! Here's what you have to do:
1. Think of an answer to the following question: "
What was your very first phone, and is it still lying around?
"
2. If you haven't already, please
Like our Facebook page
, and post your answer as a comment to the picture that you'll find through
this link
.
And that's it, you've now entered the game and have a chance to win! The two lucky fellows will be chosen randomly next Wednesday (April 18) and will be contacted via a private message in Facebook.
*Update April 18th 2012*
We've drawn the two winners; Anthony and Chris, please check your private messages!
Here's a promo video by RadioShack for more details about its Mobile Makeover Month:
By entering this promotion, participants agree to be bound by these terms and that the decision of Phone Arena is final and binding in all matters relating to this promotion.

The draw is open only to USA residents aged 18 or over, other than employees of phonearena.com, its agencies or their families.

Phone Arena reserves the right to substitute a prize of equal or greater value if this is necessary for reasons beyond its control. No cash alternative to the prize will be offered.

Phone Arena reserves the right to re-draw the prize if the prize-winner does not reply within three days after being contacted.

Phone Arena accepts no responsibility for any loss, damage, injury or disappointment suffered by any entrant resulting from entering this prize draw or by the entrant's acceptance of the prize.

Phone Arena reserves the right to alter, amend or foreclose this Free Prize Draw without prior notice in the event of unforeseen circumstances, which make this unavoidable.
SPRING CLEANING MEANSBIG SAVINGS DURING AMERICA'S MOBILE MAKEOVER MONTH
ATRADIOSHACK
April MinimumTrade-in Value Encourages Consumers to Clean Out Junk Drawers,
TradeOld Phones for New Mobile Technology
FORT WORTH, Texas, March29, 2012 — RadioShackCorp. (NYSE: RSH), a leading national retailer of innovativetechnology products, services and accessories, announces America'sMobile Makeover Month by RadioShack — the retailer's latestprogram to help consumers keep up with ever-changing, fast-pacedmobile technology without breaking the bank.

StartingApril 1 through April 28, through this special promotion RadioShackguarantees customers at least $30 and as much as $300 in immediatestore credit when they trade in a working mobile phone and activate anew one.

Arecent survey commissioned by RadioShack found more than 90 millionAmerican adults have unused technology products lying around thehouse. In addition, a third of mobile phone users report owningunused phones — and more than half of those with unused phones owntwo or more. RadioShack encourages customers to do a little springcleaning starting this weekend, clearing out the clutter, freeing upuseful storage space and preparing to unlock the value of theirunused mobile phones starting this Sunday.

"Weall have hidden tech treasures in our homes. RadioShack is excited togive consumers an incentive to unlock that value," said Gene M.Dinkens, senior vice president of store operations for RadioShackCorp. "America's Mobile Makeover Month by RadioShack issues achallenge to dig deep in that junk drawer, clean out that closet,check under the couch and stop your tech-hoarding habits. Bring usyour old products so we can help the entire country save millionsthis April."

America's Mobile MakeoverMonth by RadioShack runs April 1–28, 2012, at participatingRadioShack stores nationwide and will also feature additionaltrade-in specials in weekly circulars available onlineeach Sunday during the promotion. Guaranteed minimum trade-in valuesare available only through April 28, but RadioShack's hassle-freeTrade & Save Program is available every day. Items turned inthrough RadioShack's Trade & Save Program are recycled orrefurbished, saving consumers money while diverting tech trash fromthe waste stream.

Tolearn more about RadioShack's Trade & Save Program or toappraise your device, visit a nearby RadioShack, go toradioshacktradeandsave.com,or download the free RadioShack Trade & Save app in the AppleApp Store or Google Play forAndroid.
Completethe trade-in at a participating RadioShack location to take advantageof the special minimum trade-in value on working mobile phones orreceive immediate store credit. Trade-ins may also be completed bymail. Visit radioshacktradeandsave.comto receive a free shipping label. A RadioShack gift card for thetrade-in value will be mailed after the product is received. A $30minimum trade-in requires in-store purchase and activation of a newphone on a qualifying two-year plan, limited to one per customer. The$300 value applies to the Apple iPhone 4S 64GB and Samsung Galaxy SII only; values for other models will vary. Products must be in fullyfunctional, working condition. Other restrictions apply. See storefor details.
Surveyresults, commissioned by RadioShack, are from a nationallyrepresentative telephone survey of 2,327 adults, ages 18 and over,conducted March 19–25, 2012, by KRC Research. This number includes327 interviews conducted with Hispanic-Americans for a total of 406interviews with this audience. The margin of error for the overallstudy is +/- 2.0 percent.
AboutRadioShack Corporation
RadioShack(NYSE: RSH) is a leading national retailer of innovative mobiletechnology products and services, as well as products related topersonal and home technology and power supply needs. RadioShackoffers consumers a targeted assortment of wireless phones and otherelectronic products and services from leading national brands,exclusive private brands and major wireless carriers, all within acomfortable and convenient shopping environment. RadioShackemploys a team of approximately 34,000 knowledgeable and helpfulsales experts globally. RadioShack's retail network includesapproximately 4,700 company-operated stores in the United States andMexico, 1,500 wireless phone centers in the United States, and morethan 1,100 dealer and franchise locations worldwide. For moreinformation on RadioShack Corporation, please visitwww.radioshackcorporation.com;to purchase items online, please visit www.radioshack.com.RadioShack®is a registered trademark licensed by RadioShack Corporation.
###