Give any smartphone optical zoom capabilities using Snapzoom
8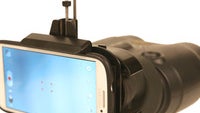 Smartphone accessories that add optical zoom
are nothing new, but none of the ones we've seen is the past is quite like Snapzoom. It has no lens system of its own – instead, it enables the user to safely and easily mount their smartphone to a pair of binoculars, or to a microscope, or even a telescope in order to get that extra magnification. Simple, but cool idea, don't you think?
The story of Snapzoom begins back in 2012 when Daniel Fujikake and Mac Nguyen tried shooting photos and videos through a pair of binoculars using an iPhone. They were impressed by the results, but an easy way of keeping the smartphone aligned with the binoculars' eyepiece wasn't available at the time. Eventually, the Snapzoom project was born and brought to Kickstarter where it received the $55,000 funding it pledged for in a matter of days.
Snapzoom is meant to be universal so it will work with pretty much any popular smartphone you can think of – an
iPhone
, any Android or Windows Phone handset, even the massive
Samsung Galaxy Note II
. Yet it won't quite classify as cheap for what it does – the retail version will cost $75 once it is on the market. Early adopters, however, can grab it for $70 via Kickstarter or for $90 with a set of Bushnell binoculars thrown in. Expect seeing the accessory on sale in September of 2013.