Girl tries smuggling 74 cell phones into jail, Colombian authorities find this not-so-cute
11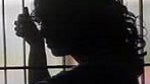 Smartphones have been all the rage evenwith youngsters (or is it actually mostly with youngsters?), but theage barrier seems to have fallen even further as now an 11-year-oldgirl tried to smuggle 74 cell phones into a jail in Colombia.Oh, 74 cell phones and a gun. The irony of it all is that thegirl stated that she wanted to visit a relative put behind bars forgun possession.
The mastermind behind all this howeveris hardly likely to be the girl herself, but rather her 25 year-oldfemale companion – allegedly the girl's sister. Entering the jailinvolved passing checkpoints and the two had already made it past thefirst one, but to their misfortune an officer at the secondcheckpoint noticed the weird shapes underneath the girl's clothes.That is when "2 BlackBerries, 72 mobile phones of varying quality,and a .38-calibre gun" were found.
Cell phones are some of the mostcoveted possessions of inmates and while law differs throughoutstates, it could lead to a prolonged sentence. And in all honesty, ajail with the latest of iPhones and Androids hardly sounds thatscary, right?
source: BBC