Get your new iPad Air or iPad mini Retina in 24 carat gold
13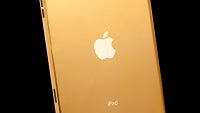 We are not talking about the "bling" champagne gold that you can already get directly from Apple, we are talking about real gold.
For those that wallow in luxury and must have truly differentiating images to your products, Goldgenie can turn that worthless 128GB
iPad mini Retina
into a beautiful mirror finish gold plated masterpiece. We are sure it will be something so beautiful that you will be afraid to touch or even use your iPad, so you will have to buy another one to compensate for that.
Why spend a mere $930 on a 128GB
iPad Air
with 4G connectivity when you could spend north of $2,300 on a gold plated version of the same thing? The iPad Air, or iPad mini Retina come in a special luxury black piano finish box to make the arrangement extra special.
Do you already own an iPad Air and curse the thought that you could have purchased it embellished with gold (or platinum or rose gold)? Fret not!! You can send your device to Goldgenie and they will happily ascend your tablet to the status that it should have been at all along.
Goldgenie will plate your iPhone 5S, BlackBerry or HTC device too, providing the image for your electronics so that they fit nicely with your Aston Martin or other luxury vehicle. The sky is the limit. You can pick up a solid gold iPhone for the cool price of £68,000 ($109,000) if you want.
All kidding aside, some of the items available for plating look pretty cool when embellished with the real thing. Depending on the occasion, many of these could be a pretty neat gift.
source: Goldgenie (
press release
and
main site
)