Get the new Google Calendar 5.0 with Material Design right now (Android 4.0.3+)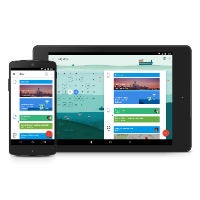 Google Calendar 5.0 in Android Lollipop brings over a brand new Material Design interface, and new functionalities, so it's definitely worth replacing your aging stock app for the calendar duties. One of the new features is automatic calendar entries based on Gmail messages. So, when you get an email for a reservation or appointment, the information will automatically be added to your calendar, "complete with things like flight numbers and check-in times". There is also an auto-complete suggestions for calendar entries, and a new Schedule view, which gives you everything you need to do in a card list form.based on your history.
If you don't own a
Nexus 9
tablet, or other Nexus device, soon to be updated to Lollipop, fret not, as Google will be rolling Calendar 5.0 in the Play Store in the very near future. In our OCD world, though, "in the coming weeks" sounds like an eternity, that's why you can get the new Google Calendar right now, by sideloading it as an APK file, and installing it on all handsets with Android 4.0.3 or higher.
Download
com.google.android.calendar-5.0-1554015-2014102731-minAPI15.apk, version 5.0-1554015 (Android 4.0.3+)