Geek Glory! Original series-based Bluetooth Star Trek Communicator available for pre-order
8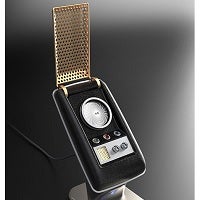 The device that literally shaped how we would talk on mobile phones a couple decades ago is actually going to be a functional product you can buy. The flip-phones of days' past always paid an indirect tribute to the ubiquitous communicator used in the original Star Trek television series of the late 1960s.
This is no cheap knock-off either, the
Star Trek: TOS Bluetooth Communicator
was built off 3D laser scans of the actual prop from the show, and is formally licensed as "official" Star Trek merchandise.
The Star Trek communicator features authentic sound effects from the show, including the classic chirping sound when you flip open the cover. Since it is connected via Bluetooth, it will serve as a wireless speaker, and it will also accept voice commands to your smartphone. The lithium-polymer battery can be recharged wirelessly on the included metal stand which also features a multi-colored LED status light.
The communicator is 4-inches tall when closed, 7-inches tall when open, is 2.75-inches wide, and 1.5-inches at its thickest. The body is made with textured ABS, machined aluminum, and pressed metal.
If you live for Geek credibility, the Star Trek: TOS Bluetooth Communicator is for you. It is available for pre-order, the price is $149. Click the source link below to order yours, and you will be calling to be beamed up in January 2016 when it ships.
source:
ThinkGeek