Gartner report: Tablets, not PCs are the future
16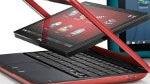 You know this song
"Video Killed the Radio Star"
– it was the first song played on MTV and it pointed to the future – a music industry driven by video clips. Of course, videos were subsequently displaced by reality shows as the most modern thing on music televisions, but that's another story. The point is that the very same thing may happen with the PCs and the tablets – the former becoming obsolete and the latter turning into the platform of the future.
According to the research company Gartner,
"tablets are expected to displace around 10% of PC units by 2014"
. And that may be a conservative estimation. Citigroup analysts' forecast is that 35m tablets, including 26m
iPads
will be sold in 2011, while FBR Capital Markets claims a total number of 70 million tablets shipped to the end customer in the same period (40m iPads and 30m by other manufacturers) – effectively twice the number presented by Citigroup. This trend is only confirmed by Ray Ozzie, the ex-chief software architect of Microsoft, who warned that the tablets (and similar media devices) are the future –
"Those who can envision a plausible future that's brighter than today will earn the opportunity to lead."
The iPad is set to dominate the tablet market in the near future, while that doesn't stop the
Samsung Galaxy Tab
to be on target with its prediction of selling
1million units
by the end of the year. Also Honeycomb, the first tablet-optimized Android OS is set to be on board on lots and lots of tablets in the near future,
RIM's PlayBook
is on the horizon and we can expect the first tablets powered by dual-core processors to arrive in the market very soon. Since the PC market is in recession in North America and Europe, it depends heavily on the emerging markets, but there is every chance that in a few years time these markets will leapfrog the PCs and head straight to the tablets. Gartner predicts that by 2013, "80% of businesses will support tablet computers for their staff". Come 2013, this may be a conservative estimation too.
source:
Guardian
Recommended Stories