Gameloft presents us a with a sneak peek of ten Sony Ericsson Xperia PLAY titles
3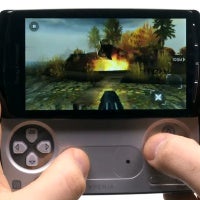 Sony Ericsson Xperia PLAY
is all about gaming, and the guys at Gameloft are giving us a sneak peek of ten "HD games" which will be available when the handset hits the shelves.
Earlier this year there was some controversy about the French game developer, as reports emerged it was
overcharging its Android customers
, but the fact is that some of the most successful mobile games are developed by Gameloft.
Unfortunately, we have no information whether these are the "complex games" that were mentioned by Sony Ericsson, or they are simply "HD games" - either way you can check them in the video below.
Here's a full list of the games that were demonstrated in this sneak peek:
• Assassin's Creed: Altair's Chronicles
• UNO™
• Let's Golf! 2
• Spider-Man: Total Mayhem
• Modern Combat 2: Black Pegasus
• Real Football 2011
• Brothers in Arms 2: Global Front
• Tom Clancy's Splinter Cell Conviction
• Star Battalion
• Asphalt 6: Adrenaline
source:
YouTube
via
Android Central