Galaxy S4 Active gets sliced and diced by a lawnmower, stays active
12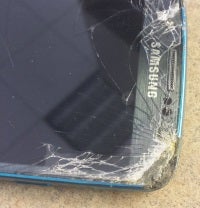 Last year, Samsung released its first 'rugged flagship' smartphone, the
Galaxy S4 Active
. The phone delivered on expectations of water and dust resistance, but surviving a lawnmower wasn't anywhere on the spec sheet - until a few hours ago.
"My friend was mowing his lawn on his riding lawn mower listening to music on his Samsung Galaxy S4 Active when he felt his phone fall out of his pocket. He looked down to see it tumble under the mower..."
- begins Reddit user yapinjapin1's story of awe and terror, before the scene cuts to the kill -
"The phone was hit by the blade and took a slice out of the top right corner."
This is the point at which we shiver in horror, but the (partially) happy ending follows none too late.
"The phone still is operational, the music did not stop playing and the screen functions properly. The screen has hairline cracks down the whole screen but they are not very visible when the phone is on."
- the story concludes.
As its always the case with stories of heroic smartphone survival, the plot is best told by the accompanying graphic photos. Check them out and be amazed by the Galaxy S4 Active's will to stay active.