Galaxy Nexus vs iPhone 4S: web browsing comparison
51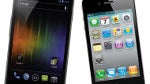 While we're working to complete our full Samsung Galaxy Nexus Review, here's a sweet little video we did in order to compare the web browsing experiences on the
Galaxy Nexus
and probably its biggest rival - the
iPhone 4S
. As you can imagine, both handsets perform admirably in this respect, with only negligible differences with regards to their performance.
Both enjoy very smooth scrolling, panning and pinch-zooming, while the iPhone 4S shows its expertise in the double-tap-to-zoom gesture, which is especially convenient when operating with one hand only. Right now, both don't have Flash Player,
but the Galaxy Nexus will get it
, once Adobe optimizes it for Ice Cream Sandwich. When that happens, Nexus users will probably observe a slight frame rate drop on sites featuring Flash content, but we expect the experience to remain pretty tolerable, because of the powerful dual-core processor the Galaxy Nexus sports.
Enough talking - watch the video below to see the smartphones' browsers in action!