GM announces pricing for 4G/LTE service
12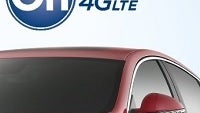 So you're taking a road trip. You got the family and bags all stuffed in the car. The kids are in back playing with their toys and gadgets when one of them remarks they want to do Facetime with grandma or surf the web. Trouble is, the iPad or other tablet is Wi-Fi only, and you don't have a mobile hot spot with you.
Well, if you're driving a late-model GM vehicle with OnStar, you can turn your car into a rolling hotspot for as little as $5 per month, and have access to speedy LTE service through AT&T's network.
You are right in thinking there is quite a bit of fine print with such an offer, but it is not so difficult. That $5 per month gets you 200MB of data. That is good for 10-13 hours of internet browsing, and 6-7 hours of streaming music. That $5 rate is a discount, available for those that subscribe to GM's OnStar safety and navigation service which runs between $200 and $300 per year. A $15 per-month discounted rate will buy 1GB of data.
The good news is that GM is also offering a-la-carte pricing to turns your car into data hub. First, if you buy a new GM vehicle, you get a three month trial for free. That trial gives you 3GB of data. If you want to keep the service, $10 per-month gets you 200MB of data. $20 buys 1GB, $30 buys 3GB, and $50 per-month nets you 5GB.
GM will also have one-time purchase options available as well. $5 will buy OnStar subscribers and non-subscribers alike 250MB for the day. You can also buy 10GB for use over a 12-month period for $150 or $200 for OnStar subscribers and non-subscribers respectively.
What if you happen to be an AT&T customer already? Well the good news is you can just add your LTE-equipped vehicle to your Mobile Share plan for $10 per month, which to us seems like the best deal, and it keeps all your wireless service on a common bill. This service will be available beginning next month and the 2015 model year Chevrolet Malibu will be the first GM vehicle equipped to use the service. GM plans to add the 30-plus remaining vehicles in the line-up to the OnStar feature by the end of this year.
source:
GM