Future Snapdragon chips might come with ultrasound for future touch-free gesture interfaces
9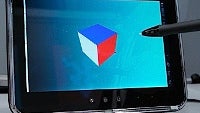 Qualcomm has just acquired EPOS Development, a company known for working on ultrasound technologies, and it confirmed that future Snapdragon chips will use the company's insight. The Snapdragon chip is common on Android, and it is the one chip powering all Windows Phone devices.
Epos' technology could be used for stylus and gesture recognition, and possibly even move away from the now dominant touch interfaces.
Here is a short description of the technology by the Israeli EPOC itself:
"EPOS technology is based on the transmission of ultrasonic acoustic waves between two or more devices via a Transmitter and a software-based Receiver. The Transmitter, embedded within an input device, sends constant acoustic signals to the software-based Receiver that in turn, uses them to measure the distance and position of the pointing device.

Enabling advanced, embedded technologies for both 2 and 3 Dimensional input solutions, EPOS technology uses only standard MEMs microphones, making it low in cost and easy to integrate with only minimal hardware and design changes required."
What this means is that the ultrasound technologies works in three dimensions, both on the display and off of it. Thus, you could just use gestures in the air to control the device.
To give the new technology a boost in consumer electronics and the educational and enterprise markets, Qualcomm will provide stylus reference designs.
EPOS is a hint of what's to come eventually after touchscreens. Touch-free and pen interactions a la Minority Report might not come en masse next year, but the technology is definitely already there. And given the fact that Qualcomm recently surpassed Intel in its market value, we could well see this kind of innovation from it.
source:
Tech Crunch

SAN DIEGO, Nov. 16, 2012 /PRNewswire/ – Qualcomm Technologies, Inc. (QTI), a wholly owned subsidiary of Qualcomm Incorporated (NASDAQ: QCOM), today announced that it has acquired certain assets of EPOS Development, Ltd. (EPOS), a leading developer of ultrasound technologies for input solutions, including pen, stylus and gesture recognition. The company, based in Hod Hasharon, Israel, has developed digital positioning technology that enables device manufacturers to integrate advanced user input capabilities into a wide range of consumer devices.
"As computing evolves beyond the PC, consumers are looking for intuitive new ways to interact with their mobile devices," said Raj Talluri, senior vice president, product management, QTI. "EPOS' technology goes beyond the PC-era mouse and keyboard and enables touch-free gesture and pen interactions as user input mechanisms. Enabling this technology on Qualcomm's Snapdragon processor will allow devices that accommodate a more mobile and multimedia-centric lifestyle."
The acquired assets will further strengthen and differentiate Qualcomm's Snapdragon processor, allowing unique and powerful next-generation user experiences for smartphones, tablets and e-readers. EPOS team members who are joining Qualcomm will be integrated into Qualcomm Israel's R&D team and will be focused on delivering new mobile device and service capabilities.
The EPOS technology is based on the digital transmission of ultrasonic waves, enabling precise tracking by a receiver to enable multiple applications.
"Ultrasound technology provides device manufacturers a low-cost approach for integrating pen and stylus-based user interfaces into their products while gaining the benefit of a slew of new capabilities," said Oded Turbahn, chief executive officer, EPOS. "Relative to other pen and stylus input solutions, the additional bill of material cost for the device is minimal as the technology does not require changes to the device's screen and is independent of screen size. The EPOS team is excited about joining Qualcomm in working to further the potential of digital ultrasound."
EPOS' ultrasound technology provides a differentiated, high-resolution user experience that works on screen and off screen, as well as in three dimensions. Qualcomm intends to provide digital pen/stylus reference designs to help accelerate adoption of this technology in the consumer, enterprise and education markets.
About EPOS Development, Ltd.
EPOS Development, Ltd. is a leading provider of advanced digital positioning technologies. Headquartered in Israel and backed by Jerusalem Venture Partners (JVP), Walden Israel Venture Capital and Tel-Ad, EPOS develops next-generation input solutions for consumer electronics and mobile devices.
About Qualcomm Technologies
Qualcomm Technologies, Inc. (QTI), a wholly owned subsidiary of Qualcomm Incorporated (NASDAQ: QCOM), is redefining the way people incorporate wireless devices and services into everyday life. QTI and its subsidiaries operate substantially all of Qualcomm's research and development activities, and product and services businesses, including Qualcomm's semiconductor business, QCT. QTI's developments enable opportunities across the wireless and wired value chains by making devices and networks faster, content richer and communications more personal and affordable to people everywhere. For more information, go to www.qualcomm.com.