Fusion Garage lifts the cover over its unique Grid OS, coming on button-free Grid 10 tablet and Grid 4 phone
8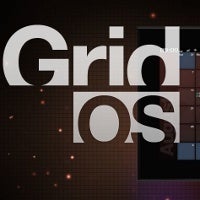 Are you feeling lost in a world of largely uniform Android tablets? Fusion Garage might not be the first name that comes to mind for a unique experience, but that's exactly what the company previously known for its JooJoo tablet aims to offer with its brand new
Grid OS
. The mobile platform is based on Android but it's much more than just a mere skin – it's a new operating system just like Mac OS X is new compared to its underlying UNIX core, Fusion Garage CEO Chandra Rathakrishnan stresses. Grid OS revolves around a different user interface called the grid. It's an unlimited space for you to freely place your apps and quickly navigate around without needing to scroll pages – you just pan around. But it's also about navigation which is exclusively based on gestures. A concept we just recently saw on Nokia's doomed MeeGo OS, the Grid OS takes the idea seriously and even unlocking the screen is done via your signature.
But a platform does not quite come alive until it has the
devices to back it up
. And Grid OS has them – the buttonless 10-inch Grid 10 tablet and the Grid 4 phone will both be available soon.
Grid10 tablet
Grid10 tablet
features a 10.1-inch display with an impressive resolution of 1366 x 768, translating into an aspect ratio of 16:9, great for watching videos. A 1.2GHz dual-core Tegra 2 chip helped by 512MB of RAM powers the visuals including the plentiful animated transitions. It has 16 gigs of built in memory, but with support for microSD card you can expand that. The Grid10 also sports a 1.3MP front-facing camera which put to work with the preinstalled video calling software is a welcome addition.
The slate however doesn't aim to compete in the lightest and thinnest race kicked off by Apple's iPad 2. The Grid10 tips the scale at the hefty 24.3 ounces (690 g), while its profile measures at 0.55 inches (13.9 mm).
The slate clearly isn't positioned as an iPad killer – it rather aims to deliver a
breath of fresh air and innovation
to the bored Android user. And with a massive ad campaign kicked off by TabCo, a couple of perks like the included quality headphones, folks at Fusion Garage might well find the sweet spot for differentiation. The Grid 10 tablet comes September 15th for a price tag of $499 for the Wi-Fi-only edition and $599 for one with 3G radio, but those of you, owners of the company's first product, the JooJoo tablet will get it for free.
For those oblivious of the failed
JooJoo
tablet, it was a project kicked off as the CrunchPad in cooperation with TechCrunch's Michael Arrington, but later ended up sold separately as JooJoo. The Linux-based slate premiered a month or so earlier than the original iPad, but couldn't get traction.
Grid4 phone
Grid 4 smartphone
is coming in Q4 2011. It's a Grid OS-based handset with a 4-inch WVGA touchscreen dominating the front as there are no buttons at all. Just like on the tablet, the focus of this handset is not on cutting
edge
silicon, but on the completely new OS revolving around gestures and apps. Social features are deeply integrated in the OS, while applications will be available via the Amazon Appstore and the upcoming Grid Shop.
Under the hood, the widely used Qualcomm MSM8255 chip powers the experience along with 512MB of RAM. On the back, a 5-megapixel camera with LED flash records video in 720p, while up front another 0.3-megapixel snapper makes a perfect addition for video conferencing. The final touch is the price - the phone will roll out for a relatively affordable $399 unlocked.
The Grid-based tablet and phone won't be just separate devices running the same platform, though, they will be able to
communicate with each other
so for example when you pause a movie on the tablet, you can resume watching from the same spot on thes phone. But we're yet to see where Fusion Garage will take this – the prospects seem big. Feel free to check out the demo videos and chime in with your opinion about the new OS and devices in the comments below, do they look good enough to make a dent in today's extremely competitive mobile market?
source:
Fusion Garage