Furious tapping: best action games for smartphones and tablets
10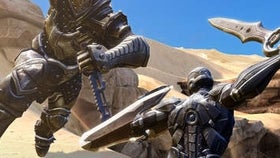 Finding the best action games for mobile devices is not an easy task, but today we're going to take a look at the best titles across the Android and iOS app stores.
To start, the word 'best' is highly subjective when used to describe any game, which means that the title selection depends on personal interpretation. Second, the term action game is used to define any title that puts emphasis on skill, fast reflexes, and hand-eye coordination.
In fact, the action game genre is so broad that it includes several major subgenres. At large, shooting games, fighting games, and platformers are considered the most important action game subcategories, although even arcade-like driving games and some real-time strategy games can be filed under the action game genre.
Given the complexity of the task, we're going to recommend action games spanning several subgenres. If you've got any recommendations for our roundup of the best action games for mobile devices, drop us a line (or a few) in the comment section below.
Note that many of the titles we've selected are available on both Android and iOS, although some of the best action games for mobile devices are only available on iPhones and iPads.


Modern Combat 5: BlackOut

Mobile gamers looking for an experience that seems to be coming straight out of an action movie should definitely start their search with Modern Combat 5: Blackout, one of the mobile games that actually lives up to the term of console-level graphics.

The Modern Combat series has always produced some of the best first-person shooters on mobile devices, and Gameloft did not drop the ball with Modern Combat 5: Blackout. The single-player campaign is a great way to learn the game and experiment with the four specialized player roles (Assault, Heavy, Recon and Sniper), but all of the real fun only happens in the online multiplayer mode, where BlackOut really shines.
Infinity Blade III
Infinity Blade is an action-packed and frenetically-paced action games series, and the latest Infinitive Blade III can easily be considered the best action game if you're looking for intense combat action that's perfectly adapted for touchscreen devices.
In the game, players take up the role of Siris (a warrior-type hero) or Isa (a stealth-based character) in an attempt to stop the Worker of Secrets. The story is fairly engaging, although what really makes this one of the best fighting games for mobile devices are the intense swipe-and-tap combat moments, one of the trademarks of the Infinity Blade series. As you progress throughout Infinity Blade III, you'll be able to create customized weapons, armor, and potions.
Injustice: Gods Among Us
The mobile version of Injustice: Gods Among Us, one of the best action games for consoles, is our top action game recommendation for DC Comics fans.
Just like in the console version, users can play as any of the major DC Comics superheroes in an alternate universe where the noble intentions of Superman and Batman have been replaced by a desire for power. Create teams of three characters and have your go at your rivals in a tap-and-swipe battle system that's perfectly adapted for touchscreen devices. As you earn your salt as a skilled fighter you earn credits that can be used to unlocked new heroes and upgrades.
Dead Trigger 2
No list of the best action games can be complete without the inclusion of a zombie survival game. From a sea of similar titles, Dead Trigger 2 from Madfinger Games is the one that stands out as providing the most polished experience.
This is a free first-person shooter game available for both iOS and Android that has you shooting your way through undead enemies in either a series of single-player missions or a cooperative multiplayer scene. Speaking of the co-op mode, players are enticed to join their forces and beat community goals that unlock special awards.
Dungeon Hunter 5
If you're interested in some hack'n'slash action RPG action, Dungeon Hunter 5 is a solid first pick. The Diablo-like DH5 impresses through a complex gameplay system that employs three character classes, a vast collection of weapons and pieces of armor, and a leveling system that allows you to unlock special attacks and spells as you progress throughout the game.
The latest iteration in the complex action RPG series comes with a massive single-player campaign stretching out across 5 vast realms and 69 missions. Furthermore, the online co-operative gameplay mode provides additional fun as well as even more hours of gameplay.
Punch Quest
While it's not as popular as Temple Run or other titles, Punch Quest is one of the most interesting representatives of the infinite runner genre.
As the name suggests, your goal is to jab or uppercut your way through the opposition, which typically consists out of zombies, wraiths, and orcs. As you punch your way forward, the points you earn can be used to customize the appearance of your character. On the downside, the old-school graphics might seem a bit outdated for some.
Badland
Badland is a side-scrolling platformer that has reimagined the genre back in 2013 when the game originally launched. Although the mechanics are fairly simple, avoid obstacles and continue your lateral motion ahead of the scrolling screen, the atmospheric implementation produces a notable mobile gaming experience.
Next-generation graphics, a gameplay design that blends together beautifully with the soundtrack, extremely simple controls, more than 100 levels in the single player campaign, and an online co-op mode, Badland is the full package!
If you're looking for a mobile game that bridges the line between video game and art, then Badland is exactly what the doctor ordered!
World of Tanks: Blitz
If you've ever played the desktop version of World of Tanks, the mobile version of the game of the game will provide a similar experience but on a smaller scale: two teams of 7 players get to pick iconic World War II tank models and shoot it out on a variety of maps.
The console-like graphics, the shell physics system, the detailed tank models, and the intuitive controls are only a few of the details that work together to define the best action game for those with a passion for tanks. Even if you're not a tank buff, there's no harm in making use of the 'free-to-play' model and trying out World of Tanks: Blitz for size.
Vainglory
Many PC gamers have given up on other gaming titles and have picked up the multiplayer online battle arena (MOBA) genre as their exclusive passion. There are multiple mobile MOBA adaptations currently available in both the Android and the iOS app stores, but Vainglory provides a unique combination of detailed 3D graphics and touch-friendly controls.
At large, Vainglory is little else than a scaled down version of games such as DOTA 2 or League of Legends, with players duking it out 3-on-3 on a three-lane map.