Full specs for the first true Octa-core MediaTek MT6592 and quad-core MT6588 show great promise
26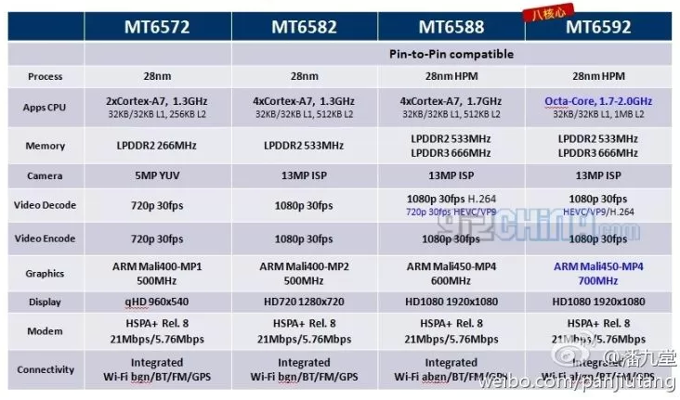 A rather extensive specs sheet covering the ins and outs of the new duo of MediaTek processors, the octa-core MT6592 and the quad-core MT6588, has been leaked on the Chinese Weibo, infamous for its resourcefulness. The new chipsets, as you can see, mark a pretty substantial upgrade – built on a 28nm HPM process, the two new processors have a higher clock on their ARM Cortex-A7 CPUs, support for LPDDR3 RAM and an upgraded GPU prowess, thanks to quad-core Mali450s that also feature a higher clock than their predecessors.
While the MT6588 has received little attention from the media, the far more interesting, true octa-core (meaning it can operate all eight cores at once, unlike Samsung's current line of Exynos chipsets) MT6592 has been on the agenda for quite some time now. Early benchmarks point towards very respectable AnTuTu scores that go up to 28,000, which puts the new SoC between the Qualcomm Snapdragon 600 and Snapdragon 800 in terms of performance. What's more, MediaTek will probably also price these more competitively.
The new MediaTek duo of processors is set for release on November 20, but considering the company's track record, a lot of people have been wondering whether the octa-core chipset in particular is anything more than a gimmick. And really, it seems like the community overall is split on MediaTek, with the majority having a tendency to severely underestimate the chip maker and the capabilities of its hardware. This is not surprising, considering that MediaTek is prominent with Chinese manufacturers for the most part, despite indications of interest from other, bigger companies like Samsung, Sony, Alcatel and HTC. That's because MediaTek traditionally offered a price point that was simply too enticing for manufacturers to pass up on, while at the same time providing adequate performance. This has changed in one regard only with the current generation of chipsets, like the 1.5GHz quad-core MT6589T – they've gotten more than capable of handling even sophisticated games, yet the affordable price tag still stands. No wonder the big guys have started lining up.
In conclusion, the news here really are that the new MediaTek processors may be hailing the beginning of the oft-spoken about new "era", where prices for even quality, high-performing smartphones will race down to the bottom. We may very well be repeating ourselves here, but the world is a big place, and you, our readership, more than most anyone else, should know exactly how little the everyday person knows (and cares) about the performance of obscurely named processors and in general. They're oblivious to what to them seems like a minuscule improvement, from say Snapdragon 600 to Snapdragon 800. To that person, the only requirement is that his phone runs apps smoothly, takes a great occasional snap, can place and take calls and texts, and looks good. To that person, these new chips are more than enough.