Fruit Ninja breaks 300 million download barrier, now on every third US iPhone
4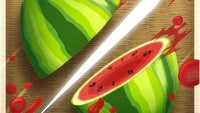 Fruit Ninja
, the addictive game where you slash fruits flying over your screen (what have we come to play!), has broken the 300 million download barrier and is now on every third iPhone in the US.
If you want even more astounding statistics, how about the fact that over 100 years worth of Fruit Ninja is
wasted
played every day.
Combined, the amount of people slashing fruits on their phones is almost as much as the population of the United States. Impressive, eh?
And if you care about even more stats to back up your theory that humanity is wasting its brain more and more as technology evolves, you have the fact that over 1.5 trillion fruits have been slashed so far.
All of those numbers come just as Fruit Ninja celebrates its second anniversary on major markets. Coincidentally, an update was recently released bringing time-extending peach and explosive berries.