Fructel hopes to brings a universal gamepad to Android devices
6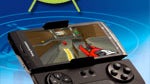 If you love the idea of having access to a gamepad for your Android gaming sessions, but don't want to commit to the added thickness of a permanent solution such as the
Sony Ericsson Xperia PLAY
, a Swedish company called Fructel may have just come up with the perfect solution.
Fructel is working on a product called the
Gametel gamepad
, which is a
Bluetooth wireless controller
. The controller features a clip at the top for attaching a phone if desired, but still operates wireless for cases where an attached device would not be optimal, such as using a phone's HDMI out to play on a TV. We are also guessing that snapping this thing onto the bottom of a tablet would be quite awkward.
The Gametel gamepad is said to be compatible with any
Android 2.1
and up device with Bluetooth. It utilizes a downloadable driver from the Android Market to replace the onscreen keyboard as the input device. The downside to this approach is that you cannot use the onscreen keyboard and the Gametel gamepad at the same time. Either the gamepad or the Bluetooth module needs to be switched off in order to begin using the keyboard again.
As far as battery life, the Gametel gamepad has
nine hours of playtime
and features an
auto shut down
after six minutes of inactivity. It uses a rechargeable batter that is compatible with same
micro-USB chargers
that most phones use.
Fructel is currently working with developers on compatibility issues. Right now, Xperia Play optimized games are only viewable by Xperia Play owners. Fructel is working to have gamepad-optimized games available to everyone. The Gametel app lists over 50 games available now with notes on any known compatibility glitches for each game.
The UK site, Pocket Gamer, received the first prototype and is reporting that Fructel is aiming to get the Gametel gamepad to market in time for Christmas. They list a suggested retail price of
£49.99
, approximately
$67 in the US
, but make no mention of specific dates or regions.
source:
Pocket Gamer
via
Tech Crunch