From wild to plausible: iPhone 7 concept renders that caught our eye
20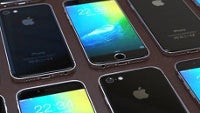 Concept renders of popular — usually upcoming — devices have become a sort of a tradition. Sure, most of the time they're just those weird, sometimes even crazy renders of a device that we all know won't ever be reality. Occasionally, however, we get something that looks both appealing
and
plausible. As in, they don't feature a device with an emergency CO2-powered parachute that is obviously overboard.
No harm in having a little fun, though, and we'll be the first to admit that we enjoy sifting through artists' works every now and then. Most of what we see is a little too much on the amateur side and so we don't mention it, but at times we get something that we feel compelled to feature. For this selection, we tried to steer clear of the first group as much as possible, and focus on polished works that dream up the way the next iPhone (7) could end up looking like.
Of course, renders can sometimes flesh out a device for which we have leaked technical drawings. In fact, we've noticed such a trend lately, and the 'leaks industry' has actually scored a few hits already on that front. That in mind, no CAD files were used in the creation of the below works as far as we know, so look elsewhere if you're itching to get a sneak peek into the iPhone 7.