French agency sues Apple for $55.3 million over illegal carrier contracts
30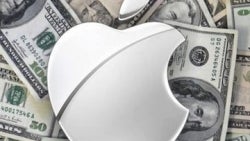 The DGCCRF - which is France's competition, consumer, and fraud agency - has filed suit against Apple with the Commercial Court of Paris. The iPhone maker is accused of enforcing illegal contracts with France's mobile operators.
The French agency claims that Apple's contracts with the local carriers are significantly unbalanced in Apple's favour. The DGCCRF says that no less than 10 clauses found in the contracts that Apple imposes with carriers are illegal. Through these clauses, carriers are forced to purchase a minimum number of iPhones over a three-year period, pay for Apple ads, subsidize in-warranty iPhone repairs, and even allow Apple to use their patents and brand.
If the country's commercial court rules that the DGCCRF is correct in its accusations, and Apple does indeed violate the country's commercial code, the company may be forced to pay a total of 48.5 million euros. Out of this, €14 million would go to SFR, Orange would get €11.6 million, Free Mobile would be awarded €8.2 million, and Bouygues Telecom would get €6.7 million. On top of this, Apple would also be forced to pay €8 million in fines.
While Apple could well afford to pay the 48.5 million euros that the French agency asks it to, this case could set a dangerous precedent for the iPhone maker. Carriers and fair competition agencies from
around the world
had already started to challenge Apple's strict contracts with local carriers, and if Apple will be found guilty in France, then the iPhone maker could be facing similar challenges in other countries as well.
This DGCCRF case comes at a time when Apple, along with other US-based tech firms, is also facing investigation for tax evasion amounting to over $8bn in Europe. We're obviously keeping a close eye on this matter and we'll get back to you as soon as more information becomes available.