Free smartphone plan with 200 minutes and 500MB of data incoming, courtesy of FreedomPop
8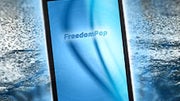 Having proper wireless service – with data, calls and text messages included – can be a costly affair, but the guys at FreedomPop want to give U.S. consumers all of that at no cost. Yes, seriously! The company, which has been selling mobile hotspots and
4G-enabled iPod sleeves
since last year, announced its newest service, bound to become available nationwide later this summer.
FreedomPop will soon start offering cellphones of its own, running on the Sprint cellular network, bundled with 500MB of data, unlimited text messages, and 200 minutes, all free of charge. On top of all that, a long-term commitment will not be mandatory, so users may opt-out without having to pay an early termination fee. Sounds too good to be true, doesn't it?
However, there's some fine print as well, so it's still early to get too excited. At launch, FreedomPop's service will be available only on the company's devices, although users will be allowed to activate their own Sprint phones eventually. Furthermore, these phones will come with custom software pre-installed. The selection of devices, all of which are expected to be priced at $99 to $199, will be very limited at first. Thankfully, a number of smarthpones will be on the list, including the
Samsung Galaxy S III
and the
Galaxy S II
.
Users who need more data will be allowed to purchase extra megabytes. Those who are using a free plan will be charged 2 cents per extra megabyte, while those who opt in for paid service – $18 per month for 2GB, or $29 per month for 4GB of data – will pay an additional cent per every megabyte over their allowance. For $10 extra, one can get unlimited phone calls as well.
At launch, the free service by FreedomPop will run over 3G and 4G WiMAX, but it will switch over to 4G LTE as Sprint continues to expand its next-gen network. Anyone who is interested is free to sign up on the company's page for news and alerts regarding its launch.