Free endless-aerial-runner Sky Boom Boom gaining altitude on Android and iOS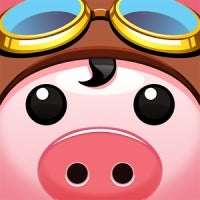 ZQGame Inc's Sky Boom Boom is a free endless-aerial-runner game, which caught our attention with its colorful graphics, tried-and-true gameplay formula, and plenty of positive buzz around it. In Sky Boom Boom, you become a super-pilot of the Buzz Tech Team, whose mission is to complete the longest flight possible while being harassed by the baddies from The Pirate Crew.
If the game already sounds silly to you, you have it right. All the endless flying, dodging, power-up collecting, and missile-launching happens in a vibrant, over-the-top world styled after the best (and corny-est) of Japanese animes and arcades. We aren't joking - apart from the roster of 15+ flyable airships, which includes cartoony choppers and fighter jets, you can also conquer the skies with... a flying bunny and a flying pig. So much for stereotypes!
In addition, you can unlock and upgrade different pilots, which have unique skills, and outpace your friends in the sky runner leaderboards on Google Play Games and Facebook. All in all, Sky Boom Boom might be the best challenger to Subway Surfers to have appeared in a while. You can take off to the skies from the links below:
Download:
Android
|
iOS