Foxconn recruiting a 3000-dev army to work on Firefox OS apps
9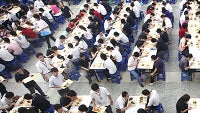 Foxconn, the company that manufactures iPhones and many other gadgets, is a city of its own with over 1.2 million employees, and hiring 3000 more seems like nothing. It is not, though, an army of 3000 developers is a huge resource, and that's exactly what Foxconn is going to allocate to help the Firefox OS gain traction.
The 3000 coders will develop HTML5 applications for the newborn web-based platform. Originally, Foxconn planned on employing 1000 developers for its partnership with Mozilla and the Firefox OS, but it seems to have reevaluated the importance of the new OS.
Foxconn has also confirmed that it is building five Firefox devices (for other OEMs). So far Alcatel, LG, ZTE and Huawei have all jumped on the new platform and 18 operators across the globe will carry the affordable devices. The first devices should end up on store shelves in the very near future.
source:
The Register
Recommended Stories