Forget girl-oriented phones, says iFixit, just slap a $50 mirrored back panel on the iPhone 4/4S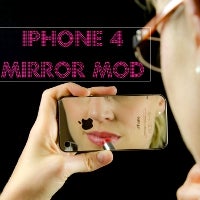 Cell phone makers have been trying to make girl-oriented handsets since the dawn of wireless times with little success. Perhaps because no sane woman likes to be segregated carrying a pink phone with Hello Kitty motifs, as most of these efforts are.
Even one of the latest such efforts, the
HTC Rhyme
, doesn't bring much to the feminine table, and it is not even wearing pink. Our favorite dismemberment team from iFixit, however, has the perfect solution - just slap a mirror on the back of an iPhone 4/4S. Seriously, they will be offering a mirrored back in the next few weeks, with which you can replace your standard panel, for the cool sum of $49.95.
The replacement procedure for the mirrored back is the same as the one for the
transparent cover that iFixit already sells
, meaning that it involves a P2 screwdriver and some disassembly skills. Now, if they can also fit a Swiss Army Knife and a lighter inside, it will be the ultimate unisex gadget.