Forget Samsung's "designed for humans" slogan, LG says its G Flex is "the most human phone ever" in this creepy commercial
40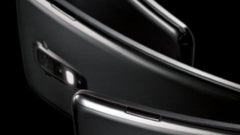 Remember how Samsung promoted its (now old) Galaxy S III as being "designed for humans"? LG is taking things to a whole new - and creepier - level with the latest commercial for its
G Flex
Android handset.
According to LG, the G Flex is "the most human phone ever" thanks to its curved design (including a curved display) and its self-healing back cover.
The problem is that these features are presented in a commercial that's probably supposed to be entertaining, but it's just creepy. It's somewhat like a B-side horror (or comedy?) movie. The idea of the commercial is that the LG G Flex is
so human
that when you hold it it
becomes
the person you're talking to - or, rather, it
becomes just parts of
the person on the other end (as you'll see in the video). It can even become your girlfriend. Well, in a way.
Don't get us wrong, we're more than thankful to modern technology for the fact that it can bring people together. But there are better ways to advertise this than how LG is doing it in this new commercial. The video was posted by LG Benelux, so it will probably be aired only in Europe. Anyway, here it is: