Force Touch on Apple iPhone 6s will activate short cuts depending on the app you're using?
35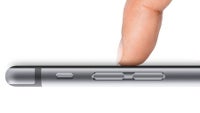 Force Touch is reportedly this year's killer new feature
for the
Apple iPhone 6s
and
Apple iPhone 6s Plus
. And while that sounds interesting, just what will happen when you unleash a stronger touch input on your iPhone screen? According to a person who has used Force Touch on the iPhone 6s, the feature has the code name of "
orb
" internally and is apparently used to open up shortcuts, depending on the application being used. Force Touch on the iPhone will show a menu on the bottom of the screen, similar to the usual iOS options list currently in use. Another way options will appear is with a UI surrounding the finger that is used to make the touch.
Some examples of how Force Touch works on the iPhone 6s include its use while in the Maps application. Using Force Touch on a destination will start turn-by-turn directions immediately, saving two steps that is necessary at present to start navigation. In the Music application, a strong touch on a song listing gives users the option to add the song to a playlist, or held for listening while offline. Apple is allegedly testing certain Force Touch options that would occur when the feature is applied to app icons on the home page. One idea that could stick would allow users to press hard on the phone app icon and see an option to go right to voicemail. Apple has worked hard on making the physical response to Force Touch a consistent one, no matter when and where it is employed on the iPhone. We could see Force Touch employed for apps in the Apple App Store this fall, although the number of such apps will start out low and rise over time as more developers figure out how to use the feature.
Besides Force Touch, the iPhone 6s and iPhone 6s Plus are rumored to feature Series 7000 aluminum to prevent bending, the Apple A9 chip for faster performance, 2GB of RAM, more efficient chips for better battery life, and faster LTE speeds for improved web browsing. The latest rumor has
the iPhone 6s and iPhone 6s Plus getting unwrapped on September 9th
.
We also have some new information on the J98 and J99 which are two code numbers for the 12.9-inch Apple iPad Pro. The large-screened slate is rumored to have a Force Touch display that reportedly will interact with a stylus (that sound you just heard is Steve Jobs rolling over in his grave). One rumor has the long-rumored slab getting released at the same time that iOS 9.1 is disseminated, although others expect it to first see the light of day at the same time as the new iPhone models do.
While we get that many of you don't see Force Touch as being a major new feature, using it on the Apple Watch and its small screen is not the same as using it on a larger iPhone screen. And keep in mind that other manufacturers also plan on using Force Touch. The ZTE Axon mini is expected to be
launched sometime in September with the feature
(will it be before the release of the new iPhone models? That will be interesting to see). And according to Evan Blass of @evleaks fame, Huawei just
pulled Force Touch from the Huawei Mate 7 Plus/mini
. That phone will be unveiled at IFA in Berlin on September 2nd.
source:
9to5Mac
via
TechRadar