For a few hours today, Amazon's Jeff Bezos was the richest man in the world
7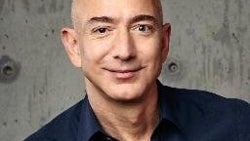 For Amazon founder and CEO Jeff Bezos, today was "easy come, easy go." This morning, as the stock market anticipated the company's earnings report after the bell, Bezos' holdings in the online retailer (and thanks to the smart speaker, now considered a tech innovator) amounted to $90.6 billion. That put Bezos $500 million ahead of Microsoft founder Bill Gates to become the richest man in the world.
Hopefully, no one ordered Bezos any t-shirts or coffee mugs with that title, because by the time evening descended on the West Coast, Gates had the lead once again. This happened when a late market sell-off took .65% or $6.80 off Amazon's shares by the close. And then, after the bell, Amazon reported a 77% drop in net as the company spent huge amounts of money on expanding the capabilities of AI assistant Alexa. Amazon also spent big bucks on warehouses and data centers. Revenue did grow 25% year-over-year. But this report failed to meet Wall Street expectations and it sent Amazon shares tumbling down after the close by 3%, or $31.46, to $1,046.
So Bill Gates can sleep peacefully tonight knowing that he awakens Friday still worth more money than anyone on this planet.
source:
WSJ