Flurry says Android and iOS are both winners in their own way
12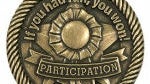 In the past, we've made the argument that Android and iOS are both winners in their own way: Google wants market share dominance, which it has; and, Apple wants profits, which it has. Well, a new report from Flurry also says that everyone is a winner: Android with market share, and Apple with time spent in apps.
Flurry looked through 4 years of its data, and found that Android is clearly winning the market share race, and Flurry says that as of April 2013, it was tracking 564 million Android devices in use around the world. But, Android users don't spend as much time in apps as iOS users. According to the data, the two platforms were about equal as of March 2012, but Android app usage has actually declined since then. As of April 2013, Android users were spending just over 60% as much time in apps compared to iOS users.
Flurry has a few ideas as to why this disparity exists, but we don't really agree with the conclusions. Flurry thinks that it could be due to different user bases (which we agree with), and the idea that iOS has a stronger app ecosystem, which perpetuates the issue (again, nothing wrong there). The trouble we have with the conclusion is that rather than taking into account things like widgets (which would detract from time spent in an app), Flurry claims that "the fragmented nature of the Android ecosystem creates greater obstacles to app development and therefore limits availability of app content." We find that to be absurd, because the vast majority of apps exist for all Android versions, and the Play Store is the same across everything, so we don't know where these "obstacles" would be.