Flickr statistics suggest that iPad 2 owners rarely use the rear-facing camera
10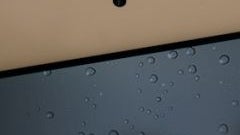 This might be a "duh" statistic, but Flickr's metrics suggest that iPad 2 owners rarely upload photos taken with their rear-facing camera. That should be obvious, considering the
0.7MP rear-facing camera
, with a mere 960x720 resolution.
Flickr's statistics show that the iPad 2 is the least-used Apple device on Flickr, with an average of only 24 uploads per day
. The next most used device is the iPod Touch, with an average of 448 uploads per day. Considering that there are 10,151
Flickr uploads
from Apple devices every day, that's pretty sad.
All told,
the iPad 2 makes up less than 1% of uploads by Apple devices. But it's still better than the Motorola XOOM, which averages only 4 user uploads per day
. But that might have more to do with how many more iPad 2s there are in circulation.
But aside from camera resolution, there's a more practical consideration: Who wants to be the guy holding his iPad 2 in the air and taking pictures? We don't want to reduce the tablet to a fashion accessory, but you have to admit how ridiculous you might look taking a picture with it. Someone who didn't know better might think you were roaming around, looking for a place to hang a picture frame.
But don't let us deter you. When your inner shutterbug comes calling, and the tablet's all you have, shoot away!
source:
PCMag
Recommended Stories