Flexy goodness: Lenovo's new Yoga Tablet 10 HD+ unveiled
7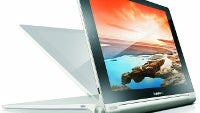 When we first saw the original
Lenovo Yoga Tablet 10
in New York back at the end of October, we knew that the PC+ era is now truly upon us if the world's largest PC manufacturer is putting as much resources and effort into the portable Android class. Not half a year later, and a new, higher-end Yoga Tablet 10 HD+ model is now a reality, offering the same kind of flexible kickstand and grippy plastic/aluminum design.
The most important distinction between the original 10-inch Yoga tablet and the HD+ is the bump in screen resolution. We're now talking a 1900x1200 resolution, or 220 pixels per inch. There are changes under the hood, too -- the MediaTek processor from last year's model has been traded up for a quad-core 1.6Ghz Qualcomm Snapdragon 400 chip, and the amount of RAM has been bumped up to the more respectable 2GB. Internal storage sits at 32GB, and is expandable via a microSD card.
If you go for Lenovo's new offering, you'll also be treated to a combo of an 8-megapixel rear shooter, and a 1.6-megapixel front cam for the occasional video call. The 3G-enabled Yoga Tablet 10 HD+ also comes packing quite the battery unit, at 9000mAh, and we can't say no to some Dolby Advanced Audio goodness, either. Last, but not least, the premium model comes pre-loaded with Android 4.3 Jelly Bean, and Lenovo is making a commitment to provide an OTA update to Android 4.4 KitKat at some point down the line.
The Yoga Tablet 10 HD+ will be made available through "major retailers" and Lenovo's own web store starting in April. The price tag of the fancy-looking tablet? $349, cash.