Fixing the Nexus One 3G connectivity problem
9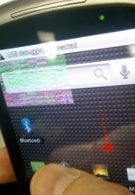 If you are a Nexus One owner who is having trouble keeping or even finding a 3G signal, there might be some hope for your phone yet. Kevin Tofel over at jkOnTheRun has a simple fix that might work. In the 10 days that Kevin had the N-One, he could not get a 3G signal. Since doing this fix, he has been on 3G continuously-even after reboots.
First, go into settings. Select "Wireless and Networks" . Choose the "Mobile Networks" option near the bottom. Go into the "Network Operators section and the handset will start looking for GSM networks near you. When the search is complete, click on "Select Automatically". The phone will respond "Registered on network".
That's it! It worked for Kevin and it could work for you. Let us know if your Nexus One now can grab and hold onto your 3G connection.
HTC Nexus One Specifications
|
Review
source:
jkOnTheRun