Five new Windows Phone devices set to launch, in Vietnam
6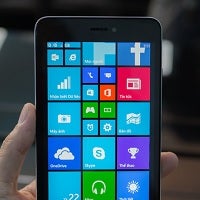 Windows Phone may be a distant third in the mobile platform race, but there are specific markets where that is not the case, where Windows Phone has been able to surpass iOS. Granted these are smaller, developing markets, and it has not greatly impacted the global ranking, but Windows Phone does have momentum in Asia.
In Vietnam, mobile device maker Q-Mobile, has not one, not two, not even three new Windows Phones in the pipeline for the land of the dragon. Indeed, Q-Mobile has unveiled
five new
mid-spec Windows Phones.
With that many smartphones on tap, you can expect a bit of variety in form factor as well. Q-Mobile has also revived a brand name that is a bit taboo in the North American market, the Storm, of which four of the five new models are named. The fifth is called the Dream. Many of the specifications under the hoods of all five devices are identical, notably the processor, which is a quad-core Qualcomm Snapdragon 200 clocked at 1.2.GHz.
There is 4GB of microSD expandable storage on-hand for all but one of the new devices (the W610 has 8GB). All five Windows Phones are dual-SIM. All but one of the devices has 1GB of RAM, and all but two have 8-megapixel main cameras. The entry-level Storm W408 and its bigger brother, the W410 have a 5-megapixel cameras, while the W408 alone has 512MB of RAM.
The Dream W473 is a thin and light device with a 4.7-inch 720p display. It weighs in at only 103 grams (3.6 ounces) and will cost 3,990,000 VND (Vietnam Dong, also $183). Starting at the entry-point for the Storm line of devices, the W408 has a 4-inch 480x800 display. As the entry-level device in the line-up, it is the most affordable at 2,190,000 VND ($102).
The Storm W410 also has a 4-inch 480x800 display, but gets a bump in the battery, memory, and storage departments. It too should be reasonably accessible at 2,490,000 VND ($117).
The Storm W510 enters a more common form factor with a larger 5-inch 480x854 display and it bumps the main camera to an 8-megapixel unit. The bump in materials makes a bump in price, 3,490,000 VND ($165). Finally there is the phablet Storm W610, which has a 720p 6-inch display. The W610 has the same price as the slim Dream at 3,990,000 VND ($183).
Q-Mobile Windows Phones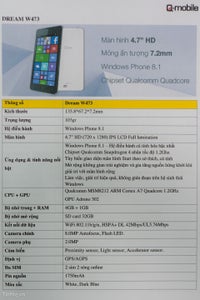 source:
Tinhte.vn
via
Techrum.vm
and
WPCentral