Fitbug Orb is a fitness tracker for only $50, can last half a year on a single charge
2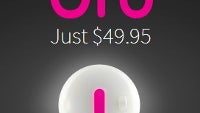 The Fitbug Orb is a new fitness tracker that costs half the price of similar devices like the Nike FuelBand, Fitbit's other tracker Flex, and Jawbone Up, but it lasts significantly more and comes with a one-year free access to Fitbug's online database and coaching service. There's a slight catch that you should know about too, though - after that first year, access to Fitbug's online catalog costs $3.99 a month.
The most impressive feature of the new Fitbug Orb however might be its unparalleled longevity. The tracker would last a whopping six months (that's half a year, you read it right) on a single charge. You might as well forget where you put that charger.
What does the Fitbug Orb do exactly? Everything you'd expect from a fitness tracking devices - it tracks your steps, aerobic step over time, distance, how many calories you have burned and how long you've slept. The Orb features three different modes: On-demand, Beacon and Stream, and you select one and go on with your life.
It relies on a 3-axis accelerometer to collect its data and stores it for as much as 14 days (then you have to transfer it online or to your device). The Orb comes with companion apps for iOS and the Samsung Galaxy S4 and it wirelessly transmits data to your phone, tablet or computer. You can also use a dongle to connect it to a computer. There is also a personal training app called KiK that comes with it.
The Fitbug Orb is available right now in white, pink or black color and you can wear it not just on your wrist, but everywhere as the round centerpiece detaches and you can simply put it in a pocket or strap it to clothing. Best of all it costs only $50, and you can pick it up at the source below.
source:
Fitbug