First promotional video for Apple Music shows the history of sound
6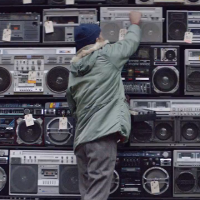 Apple has released the first promotional video for its new Apple Music service, and the clip is aptly titled "The History of Sound." From the crank phonograph developed by Thomas Edison in 1888 to the Victrola phonograph and the Cathedral Radio, the video moves forward showing how people from different eras would listen to their favorite tunes.
As time ticks ahead, we see the juke box (no Fonzie, though) and the transistor radios that the British Invasion sound blasted out of. We're shown vinyl records, reel-to-reel tape, 8-tracks, boom boxes, CD's, downloaded music (notice the "out of business" record store in the background), the iPod, and the iPhone.
Apple will release its new streaming music service with iOS 8.4
on June 30th. Users will be allowed to stream tunes for $9.99 a month after three free months.
When you look at the video, you'll see that when it comes to how we listen to music, we've come a long way.
source:
Apple