First photos of Nokia N85, N79, 5800 and others …
6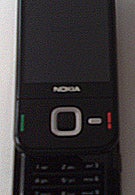 Flickr is not only a place to share photos of your family vacation; it is also a place to show off with a bunch of the newest, yet unannounced, Nokia (smart) phones! Yesterday, a user called J Blade posted a whole set of pictures of fresh models, including new N-series smartphones, the first S60 Touch phone and three Supernova phones. Here they are:
Previously known as the Tube, the
Nokia 5800 XpressMusic
is expected to launch in January 2009, as the first S60 phone with touchscreen. It will be a mid-level music (and video?) centric device. That launch date is given by the author of the photos, and we are skeptic that it will be old before it gets on the market.
Nokia N85
is a dual-slider, just as the N95 (8GB), but has the same design language as Nokia's latest offerings. It will not have large internal memory, but slot for memory card. The 5-megapixel Carl Zeiss lens has new style sliding protective cover and the flash is dual-LED instead of Xenon as in the N82.
We've no idea what the
N79
is, but it is similar to the N82 in design and will be available in at least two color options. The camera is again 5-megapixel with the same lens cover as the N85, but with dual-LED flash instead of Xenon.
There are also images of the
Supernova 7210, 7310 and 7510
, as well as the enterprise-oriented
E66 and E71.
source:
Flickr
via
EngadgetMobile