Findery is a social mapping app from the co-founder of Flickr
1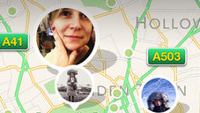 Flickr co-founder Caterina Fake has a new app available for iOS users called Findery. Called a "social local discovery" app in the App Store, Findery members leave information about places they've discovered including local stories, celebrity gossip, and other interesting facts about a specific location. Members uses images and text to pass along the stories they have discovered. And this information can be public or private.
Findery members can also create "Notemaps," which are based on certain themes. For example, currently on the app is a Notemap for "Tacos" which details the best Taco stands across the country. "NYC Memory Map" details the recollections of an ex-New Yorker. Members can also enable or disable notifications, which are received when someone has favorited or commented on the notes that they have posted.
"Findery strives to make meaningful products for real people. The Findery team, and Findery members, are passionate about discovery, travel, participatory media, stories and technology."
-Findery
The app is a free download and while currently available in English only, will soon be translated in other languages. There is no word on whether we will see Findery made available for other mobile platforms.
source:
Findery
via
PCMag