Find some buried treasure with the HTC HD2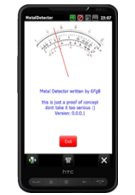 With more and more handsets being outfitted with built-in compasses, it becomes an extremely valuable tool for navigation or location based services. There are even more uses one wouldn't imagine that it would be capable of doing – such as being able to use your handset like a metal detector. One member over at xda-developers has concocted a neat app for HTC HD2 owners that'll transform the venerable smartphone to a simple metal detecting tool you can actually use. The applications uses the HTC HD2's built-in compass to detect nearby metal whenever the earth's magnetic field is deviated by metal. When using it for the very first time, you'll need to calibrate it on a flat surface so that the gauge on the app points to zero. Once that's been completed, you can simply test to see if everything is functioning properly by moving a metallic object close by to the handset. When that's all complete, you're off to start looking for some buried treasure in the backyard or something – just be careful handling your phone during your adventures.
Click
here
to download the application.
HTC HD2 Specifications
|
Review
source:
xda-developers
via
wmpoweruser