Finally: Screen recording for iOS 9 games announced
8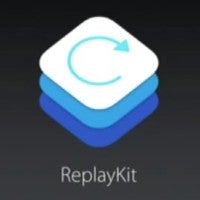 While third-party tools allowing you to record your iPhone's screen have existed for a while now, nothing really beats official support. It would appear as if that time is finally upon us, for in a 10 seconds-long announcement at WWDC 2015, Apple detailed a new ReplayKit tool, which will allow developers to bake in support for screen recording within their games.
Now, we'll admit that we currently have no clue if the feature will be available to games only, or other, more general apps will be able to take advantage of this new feature, though we'd put our money on the latter. In any case, having the ability to record your gameplay — whether to brag or to teach others — is a welcome addition, and we're sure the gaming community will be happier for it.
Of course, ReplayKit is only a small part of the many changes and new goodies that will benefit both game makers and players alike. For example, Apple has also enhanced Metal (its relatively new API that allows developers to get the most out of Apple hardware), SpriteKit, and SceneKit. In addition, the company has also introduced two other new tools — GameplayKit (path-finding and obstacle avoidance AI) and Model I/O (lighting for 3D models), rounding off a nice package.
In all, iOS 9 is shaping up to be a fantastic release for both game studios and gamers.