Fieldrunners 2 coming to Google Play on April 24th
6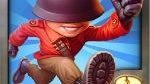 If you're a fan of Fieldrunners and you have an Android device, you might be getting pretty annoyed at developer Subatomic Studios. The team released
Fieldrunners 2 for iOS
back in July of 2012, but there was no Android version. Now, it's nine months later, and it looks like Fieldrunners 2 is finally making its way to Android, and is scheduled to hit the Google Play Store on April 24th.
The game is finally making it to Android, but it might not quite be the full game that first hit iOS. Fieldrunners 2 for Android has "over 20 levels" across 4 zones, where the original iOS release had 25 levels. Still, Subatomic claims that the game will offer over 20 hours of the same tower defense awesomeness that you want from a Fieldrunners game.
The game is expected to look just as amazing with the same hand-painted 2D graphics, and should have extra replayability with new game modes: Time Trial, Sudden Death and Puzzle.
No word on the price of the game, but we'd expect it to be around the same $2.99 it was on iOS, and it should be available in the Play Store next Wednesday, April 24th.
FIELDRUNNERS 2 COMING TO ANDROID APRIL 24th!
Get the critically acclaimed tower defense game on Google Play next Wednesday
CAMBRIDGE, MA – April 18, 2013 - SUBATOMIC STUDIOS is launching the Android version of their hit tower defense game, Fieldrunners 2, on April 24th! Android owners will be able to get the game in the Google Play app store next Wednesday. Do you have what it takes to stop those pesky fieldrunners? Get the game next week to find out!
Fieldrunners 2 originally launched on the iPhone and iPod Touch last July, and Android fans have been eagerly awaiting its arrival ever since. Subatomic Studios is thrilled to say that the Android version of Fieldrunners 2 will be a real treat for fans. Thanks to an all new game engine designed specifically for Fieldrunners 2, Subatomic Studios has been able to make a hyper polished port that feels completely at home on Android devices. "Bringing the original Fieldrunners to Android was a great way for us to learn the ins and outs of the platform," says Jamie Gotch, CEO of Subatomic Studios LLC. "By applying the knowledge we gained from that experience, we've been able to make Fieldrunners 2 rock solid on Android. Add to that the recent closed beta test we did, and fans are in for one of the best tower defense experiences they've ever seen on Android."
Game Overview
Get ready to DEFEND THE WORLD! The biggest sequel in tower defense history is finally here: Fieldrunners 2 has arrived! From Subatomic Studios, creators of the award winning classic strategy game comes an all new adventure that was years in the making. Build epic mazes out of powerful weapons to defend the world from the invading fieldrunners!
Strategic-Action-Puzzle-Defense has never been this fun and addicting! Defend your world from the invasion by building winding paths out of imaginative, new weapons. Call in airstrikes and set explosive traps to hit the enemies where it hurts. Over 20 new levels span the grassiest fields, driest deserts, sparkling cities, and even an infernal volcano lair! Challenge your mind with the exciting new gameplay styles in Puzzle, Sudden Death, and Time Trial levels. Are you ready to stop the fieldrunners once and for all? Join the defense, now!
Key Features
• Pint sized invaders seeking revenge!
• A tower that launches bee hives!
• Tons of levels in a 20+ hour campaign!
• Revolutionary AI - each enemy creates a dynamic, realistic path through the battlefield!
• Gorgeous, hand painted, 2D graphics by award winning artists!
• 20 unique, upgradeable weapons!
• Custom load-outs let you pick the perfect weapons for each battle!
• Air strikes, mines and powerful items so you can strike with the precision of a surgeon!
• Time Trial, Sudden Death and Puzzle maps bring all new challenges to tower defense!
• Trenches, bridges and tunnels add new dimensions to gameplay!
• Collect all the Elite enemies to become the ultimate tower defense champion!
• A tower that turns enemies into barnyard animals!