Field Agent is an iPhone app that pays you for a change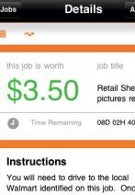 There are apps for the iPhone that you can install for free. There are apps for the handset that you need to pay for. Now, there is an app that will actually help you get paid. Field Agent can be found in the App Store, and gives the user a list of jobs in his or her area that companies will pay to get done. If you are interested in the task, you sign up and have 2 hours to complete the job. Now before you start thinking about that new car you have been pining for, this is not a way to get rich. Most of the jobs pay about $2-$8 for checking the price or taking a photo of a product on a shelf. Many of the jobs pay at the low end of the scale, while those requiring a photo can raise your pay to $6. These requests come from firms making sure that their products are being displayed correctly at a store, or checking to see if the store is pricing them correctly. The person who does the job-the "Agent"-is rated by the client. If the job is done as asked, the "Agent" gets a +1 added to his score. If he fails to do his job correctly, he loses a point. Those workers with the highest score get the first crack at claiming jobs. "Agents" get their money transferred into a PayPal account 48 hours after the work is completed.
One example of a recent job was a request for someone heading to a local Walmart to check the price of a 1.5 liter bottle of Listerine Cool Mint. Field Agent gets paid by taking some money from the company off the top. For example, a task you finish might pay $3 from which you keep the $2 quoted and the web site gets to keep $1. With Field Agent having been launched over the last weekend, site Co-creator Kelly Miller says 400 people have signed up for the app, with 3,600 jobs available. So far, the most popular job was to spend 10 minutes lying down, rating music. That offer was snapped up quickly, as you might imagine. The Need to make a few extra bucks? Now, there is an app for that.
Apple iPhone 3GS Specifications
|
Review
source:
NYTimes
,
CNET