Fed up with Facebook Messenger? Try these four alternatives
7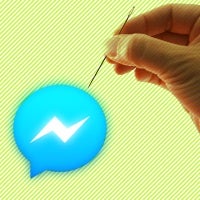 A few months ago, Facebook made a blunt change in its mobile app. It stripped it off its messaging functionality, which had absolutely zero wrong with it, and forced Facebook Messenger on our devices. Because, you know, so many people chat on Facebook, thus everyone will be better off doing it in a separate app, right? Well, some of you are happy with how things went down, switching between the two apps while constantly keeping them on. Others are mighty annoyed with Messenger and are either keeping it off their system, or seeking alternatives.
Alas, using an older version of the Facebook app with chatting, or the website in your browser is hardly convenient. The four apps below, though, are a little better. At least they can message your Facebook friends alongside friends from a whole bunch of other networks at once. Try them out if you feel like it.
Trillian
Trillian, which is available on Android and iOS devices in addition to desktop computers, supports Facebook Chat, MSN, Google Talk, AIM, ICQ, Yahoo! and Jabber. It synchronizes your chats between all platforms so conversations can be easily shared between your devices. Trillian automatically silences push notifications on mobile devices if you are active on the desktop app, so you won't be surrounded by buzzing devices all the time. Additionally, Trillian communications are secured with TLS, so no one will intrude on your private musings. Or so it says on the label.
Download:
Android
|
iOS
AIM
Here comes the Yellow Running Man! He's been on desktops for a long time, and its mobile incarnations are made to keep the torch ablaze. The app supports messages from AIM, Facebook, and Google chat networks. There's group support, photo sharing, easy copy-pasting messages, news feed updates from AIM, Facebook, and Instagram, and an "Off the Record" mode with friends in your conversation.
Download:
Android
|
iOS
BeejiveIM for Facebook Chat
Beejive was the only company to come up with a Facebook Chat-dedicated app. It's a fully featured fork of Beejive made for Facebook addicts. It has push notifications, file sharing, multiple account login, thorough customization, and it doesn't require signing up. It also has unicode support, saving chats, real-time chatting, hyperlink support, a buddy list that alerts you when a friend goes online, and emoticons, of course.
Download:
Android
|
iOS
IM+
Want to have it all? As in all? Here, have IM+. Let's start with a list of the chat networks which the app supports: Facebook,MSN/Live Messenger, Google Talk, Yahoo!, AIM/iChat, ICQ, RenRen, Jabber, MeinVZ, Gadu-Gadu, mig33, SINA Weibo, Fetion, Mamba.Ru, VKontakte, Odnoklassniki.Ru, Yandex IM and Mail.Ru Agent. In addition to being connected to every chat service out there short of IRC and BBM, IM+ has group chats, multiple accounts per every single service, personal and geo status messages. The app is not perfect, but it boasts sheer functionality.
Download:
Android
|
iOS